Published: Jun 02, 2020
Success story – Nature Gift
Aulona Cenaj is one of the beneficiaries of the ATAR 2 project, which thanks to this project opened its business "Nature Gift", a business which deals with the processing of honey for consumer purposes and aims to enter the market in the future with bio products -esthetic from honey. With the grant funds, Aulona has purchased 38 beehives, a cassette electric centrifuge, a honey packing dozer, a honey removal base, uniforms and other modern equipment for business development.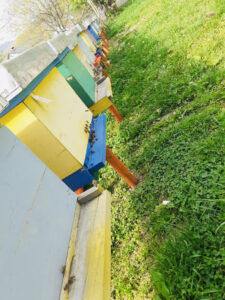 Although the new Nature Gift business employs two workers, it deals with the treatment and progress of beekeeping. Aulona aims to increase the number of employees along with business growth and development.
Soon "Nature Gift" will be released on the market with honey and other quality products which aim to enrich the Kosovo market with local honey from the Deçan Region.
This project is funded by the European Union, managed by the European Union Office in Kosovo and implemented by FIQ and LINK Campus University.