Published: Jun 03, 2020
Success story – Kompostopia
Ariston Lipa, is one of the beneficiaries of the ATAR2 project, which has opened its business for organic waste processing and its conversion into compost, as the first company in Peja, which produces compost, as a very necessary nutrient for plants.
In Europe 1000 km2 of fertile land are lost due to infrastructure and urban expansion. Nearly 40% of municipal waste is organic waste lost through landfills. Municipalities in Kosovo do not have any municipal space and system for composting.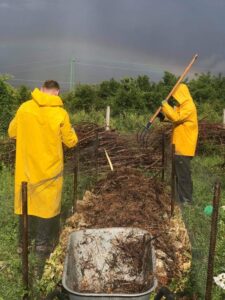 Kompostopia makes composting organic waste and selling compost. Now operating at a capacity of 100m3 per year, they plan to quadruple their activity in the next 2 years. For now, they are a team directly involved with 3 people with help and cooperation with the municipality of Peja with plans to expand and employ more other people.
This project is funded by the European Union, managed by the European Union office in Kosovo and implemented by FIQ and LINK Campus University.